In connection with a federal criminal investigation, Sen. Bob Menendez, D-N.J., is paying tens of thousands of dollars in lawyer fees and setting up a legal defense fund, according to campaign finance records and a spokeswoman for Menendez.
Since the beginning of the year, about $200,000 has been paid to two law companies and a document search company, according to the new filings.
A spokeswoman wouldn't say more about the money, but she did say that Menendez would set up a defense fund.
"Senator Menendez is confident that this official inquiry will be successfully closed," a spokeswoman said in a statement. "However, since it is still open, he will open a separate legal defense fund so as not to use up any more campaign funds."
Sources say that Menendez is being looked into because of a meat company in Weehawken, New Jersey, that won a contract with the government of Egypt to approve halal exports around the world. Several government insiders have said that the owners of IS EG Halal have given Menendez's wife expensive gifts in the past.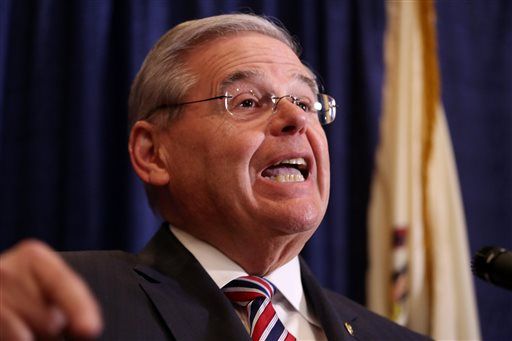 NBC News said before that the investigation, which is being run by the U.S. attorney's office for Southern New York, led to dozens of federal grand jury subpoenas.
Sources say that prosecutors are looking into whether Menendez helped the New Jersey company get the contract by using his position as chairman of the Senate Foreign Relations Committee, which controls $2 billion in aid to Egypt.
Lawyers for the company and a spokesman for Menendez have both said that they did nothing wrong.
Recent campaign filings show that in January, the Menendez campaign gave $128,000 to the law company Winston and Strawn. In February, Schertler and Onorato got $48,000 from his campaign.
When asked for comments, the law companies did not give any. Both the FBI and the U.S. attorney's office refused to say anything.
Filings show that Menendez's campaign also paid Haystack, a document search company, a total of $55,000. The payments were made twice in January and twice in March.
Menendez will be running for office again next year. Since 2006, he has been in the Senate. Before that, he was in the House.
It's not the first time Menendez has been looked at closely because of possible wrongdoing.
In 2015, Menendez was charged with federal corruption because he was said to have taken money, travel, and political donations from a rich Florida optometrist in exchange for favors.
The case was overturned because the jury couldn't agree on a single decision. Federal authorities decided not to retry Menendez in 2018 after a judge threw out some of the original counts and found him not guilty of charges related to campaign contributions.
Read More:
Monday Was Rainy in New Jersey, But Tuesday Will Be Warmer and Drier.
New York City Residents Report Feeling the Earth Shake Early This Morning
New York City Police Shoot Man With Gun on Catwalk Near Subway Tracks