On Tuesday night, former President Donald Trump made public his intention to run for president of the United States for the third time. Trump made the proclamation in Palm Beach County, Florida, near his Mar-a-Lago estate. On Tuesday, Trump submitted his candidacy for president of the United States to the Federal Election Commission.
You can read the entire thing here. Before his address, he and Melania Trump were presented as "the next President and First Lady of the United States of America." In a chandelier-lit ballroom at his Mar-a-Lago club, Trump told several hundred supporters, club members, and gathered press,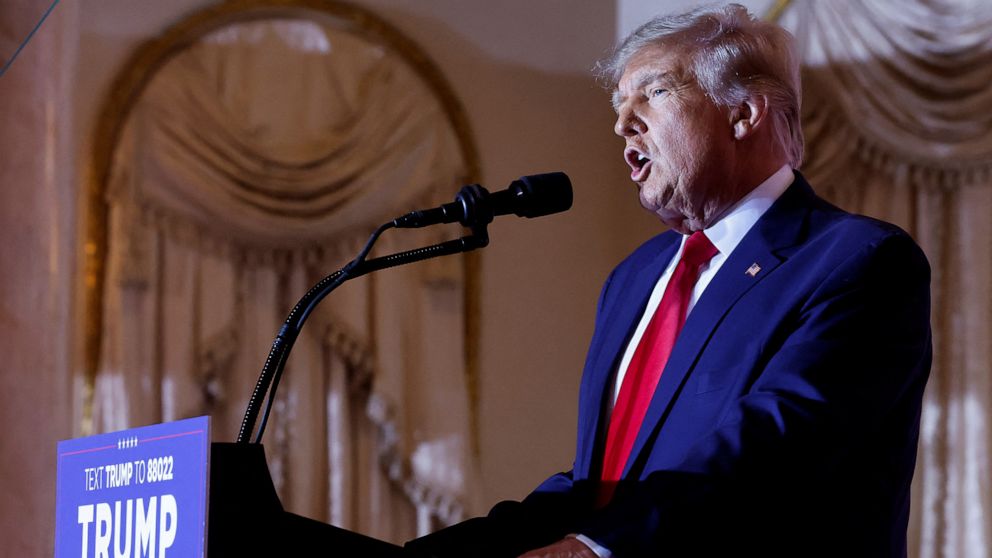 "In order to make America great and glorious again, I am tonight announcing my candidacy for president of the United States." Donald Trump was surrounded by more than 30 American flags and banners bearing his "Make America Great Again" slogan. In order to show the world what this country is capable of, I decided to run for office.
During his speech, Trump declared, "Ladies and gentlemen, America's resurgence starts right now." On the same day in 2015, Ivanka Trump introduced her father when he announced his candidacy, but she was noticeably absent from the gathering her father hosted on Tuesday.
She issued a statement affirming her love and devotion to her family but clarified that this will take place outside of her political career. "I have a lot of affection for my dad. For the time being, I've decided to put my family first, especially my young children and the private life we're building together "- Ivanka Trump.
"I have no interest in entering politics. Never will I stop loving and supporting my dad, but from now on it will be from the sidelines of politics. "I am thankful for the opportunity to have served my country, and I take great pride in the remarkable achievements of my administration.
Read More: European Commission Member Official Clarifies Console-Aligned Remark!
ABC News reports that Donald Trump Jr. was also absent from the event because he had been hunting in the western United States and was unable to return to New York City due to the weather. After beating former Secretary of State Hillary Clinton in the 2016 election, Trump served as president from 2017 to 2021.
In the 2020 presidential election, Trump ran for a second term but lost to Joe Biden, a former vice president. Prof. Kevin Wagner of Florida Atlantic University's Department of Political Science considers Trump the odds-on favorite to be the Republican nominee. According to Wagner, "other Republicans who are thinking about running for president will have to examine if there's room for them in this race."
Even though the Democrats held onto the Senate and the House is still up for grabs, Trump is already running for reelection in 2024. Both Florida governor Ron DeSantis and senator Marco Rubio were reelected within two hours of polls closing. Even though DeSantis hasn't officially declared his candidacy for president, he's been widely discussed as a leading contender for the Republican nomination.
During his speech on Tuesday, Trump made no reference to DeSantis. Wagner maintains that DeSantis' plans will be affected by Trump's campaign. Possibly stronger than the former president, "(DeSantis) came out of the midterm elections in a very, very strong position," Wagner said. So, he can choose from a wide variety of paths.
Read More: Could NYC and NJ Experience Snow This Week? This Is What the Weather Report Says:
Therefore, he must make a choice. The riot on January 6, 2021, Trump's impeachment and removal from office twice, and the ongoing federal investigations and lawsuits will all be topics of conversation during Trump's campaign. The only other president to serve two terms as president of the United States outside of consecutive terms was Grover Cleveland, who did so in 1884 and 1892.
Political Reactions
Donald Trump failed America. pic.twitter.com/fylyocYcse

— Joe Biden (@JoeBiden) November 16, 2022
Florida Democratic Party press secretary Gricel Gonzalez said, "While criminal investigations swirl around him, Donald Trump is starting a third campaign for the White House
New Trump campaign. Same old lies.

Lies about his record. Lies about immigrants. Lies about Biden. Lies about our children. Lies about our LGBTQ+ neighbors. Lies on top of lies on top of lies.

New grift. Same old grifter.

— Adam Schiff (@RepAdamSchiff) November 16, 2022
after twice losing the popular vote and handing Republicans two consecutive midterm disasters." Trump, a four-time loser, will launch his campaign tonight by boarding an empty Trump train because "the MAGA brand has grown toxic."
Donald Trump just announced he's running for president—and he didn't mention abortion one time.

He might be scared of his record, but we won't let him run away from it. pic.twitter.com/QeYkXuCq50

— The Democrats (@TheDemocrats) November 16, 2022